Our Story
Embraced by the sea, connected to the earth, here we are.
In Kuroshio, Kochi, we have an ocean. Among thousands of seaside towns throughout Japan, we believe the sea here is to feel, not to see. Although the saying "embraced by the sea" may sound a little hackneyed, you can surely appreciate it here. You will find a feeling that the ocean and the land become part of you. The sea breeze. A wave song. A birdsong. A clear dark sky full of stars as if to fall. The surroundings evoke a sense of wonder in yourself that your body assimilates them.
Nest Glamping Place Nokka stands right at the ocean's edge to prepare a special seat for you in Kuroshio. Here you are embraced by the sea, and connected to the earth, appreciating precious moments with your loved ones.
The glamping site has two trailer cabins next to Nest West Garden Tosa, a hotel in Kuroshio, Kochi. As the word "nest" suggests, we opened this hotel to be a landmark where you can always come back whenever you need. Similarly, Nokka is a bird's beak in Finnish inspired by the beak sticking out of the nest, imagining as if the cabins were baby birds waiting for your return. We truly hope that Nest, Nokka, and Kuroshio will be your sea to come back.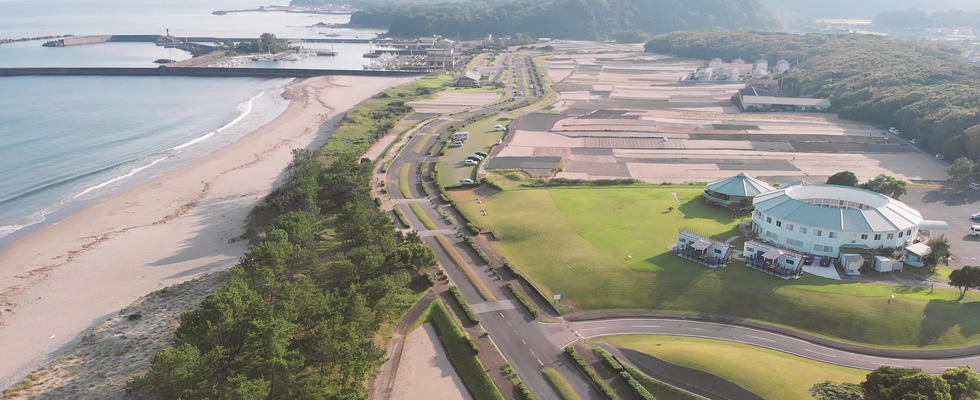 Cabin
Nokka features its location situated in a lawn park facing the Pacific Ocean, and two trailer cabins available with a wooden deck and a rooftop terrace as well as a room inside.
The comfortable room includes a living area, a kitchen area, a bed and a bathroom, making you feel at home with a spectacular ocean view seen from large windows. The attached deck is equipped with a grill, an outdoor table and chairs, bringing you a barbecue night or a relaxing time outside. And the spacious terrace shows you the ocean horizon in the daytime and a star-filled sky at night, while the sounds of waves are always playing background music. We hope you have an unforgettable time and experience with your family, your friends or by yourself in our private cabin.

Maximum capacity (per cabin): 4 persons (4 beds available)
Area: approx. 90㎡(room: 30㎡, deck: 30㎡, terrace: 30㎡)
Check-in: 3pm-9pm / Check-out: 10am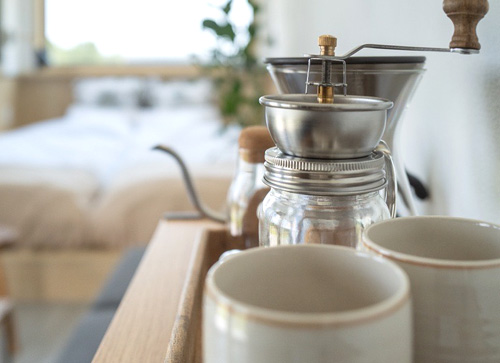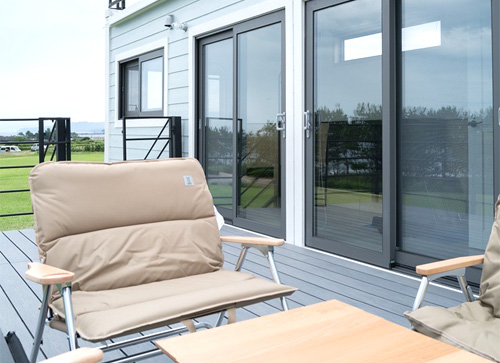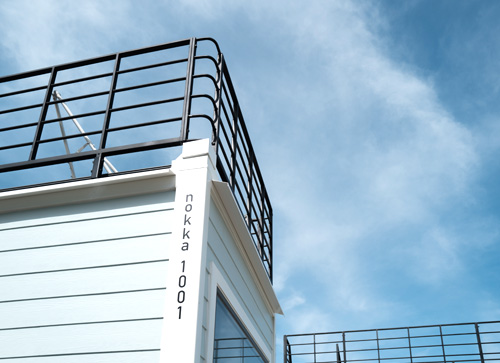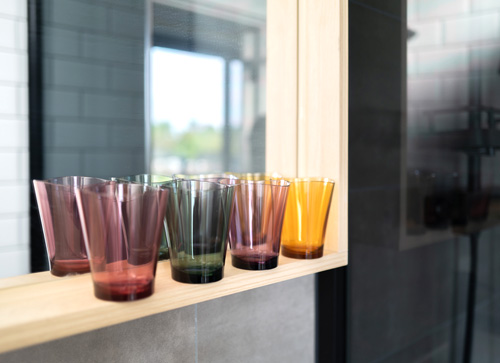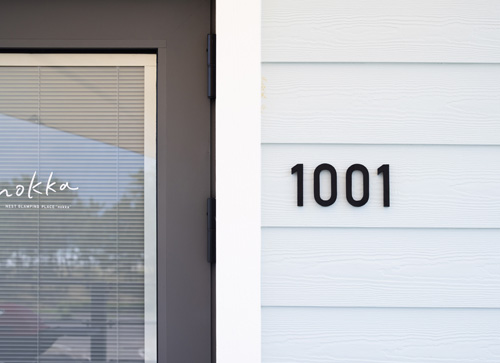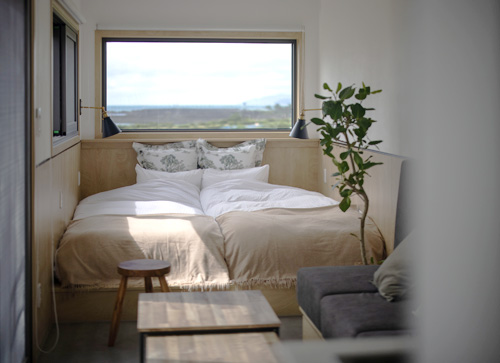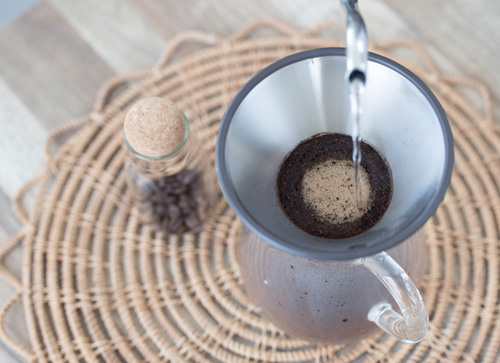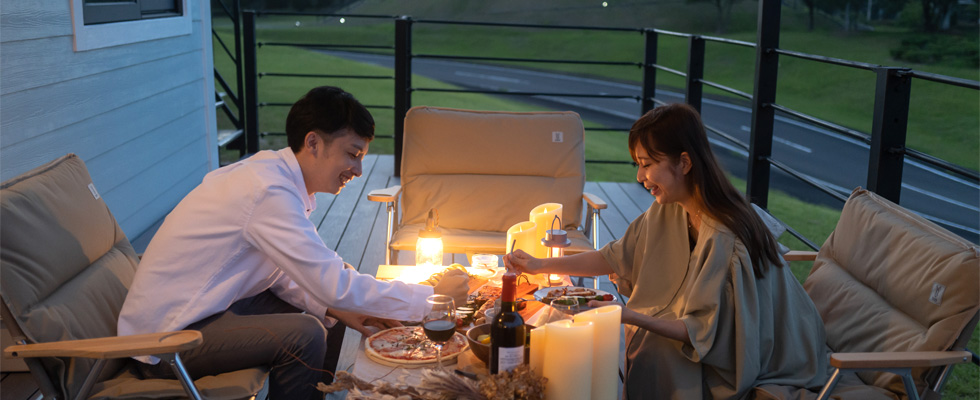 Dinner
With a panoramic view of the Pacific Ocean in front and the sea breeze blowing gently, the deck is the perfect place for an outdoor feast. We offer an optional barbecue meal in the evening, which is served pre-prepared and to be finished by yourself on a Weber grill. Relish the easy, leisurely and high-quality barbecue for a memorable night, along with both alcohol and non-alcohol beverages that can be purchased at Nest West Garden Tosa, a hotel next to our cabins.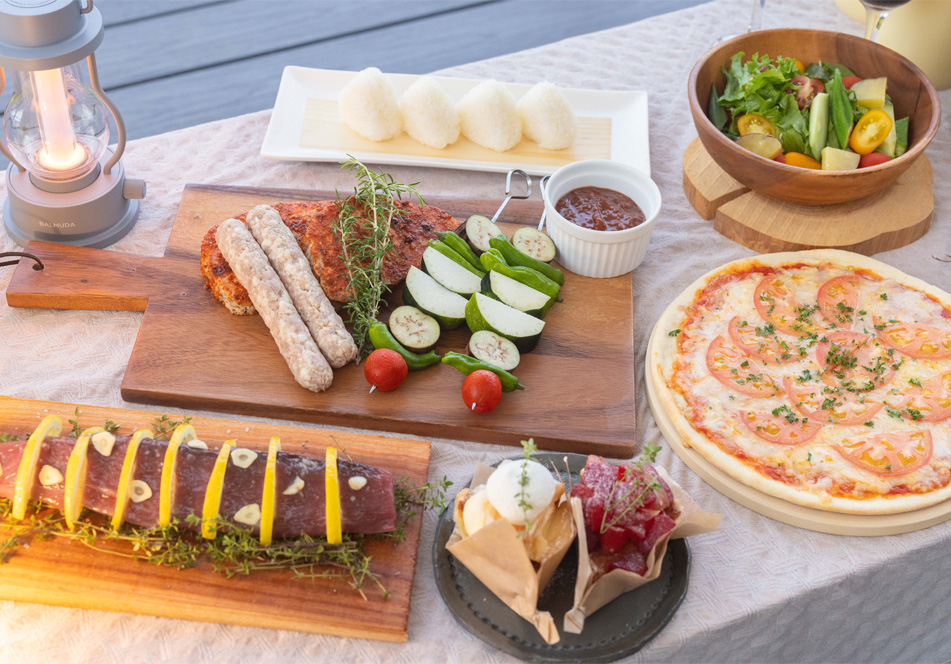 Barbecue Party Menu
Cedar Planked Tosasaga Bonito Flavored with Fresh Herbs
Seasonal Garden Salad with Locally Grown Vegetables
Grilled Shimanto Pork Loin Seasoned with Homemade Rub
Grilled Homemade Shimanto Pork Sausages
Grilled Seasonal Vegetables
Pizza with Locally Grown Fresh Tomatoes
Onigiri (Rice Balls) Seasoned with Sun-Dried Sea Salt
Daily Cake Selection by Patisserie Tutu
---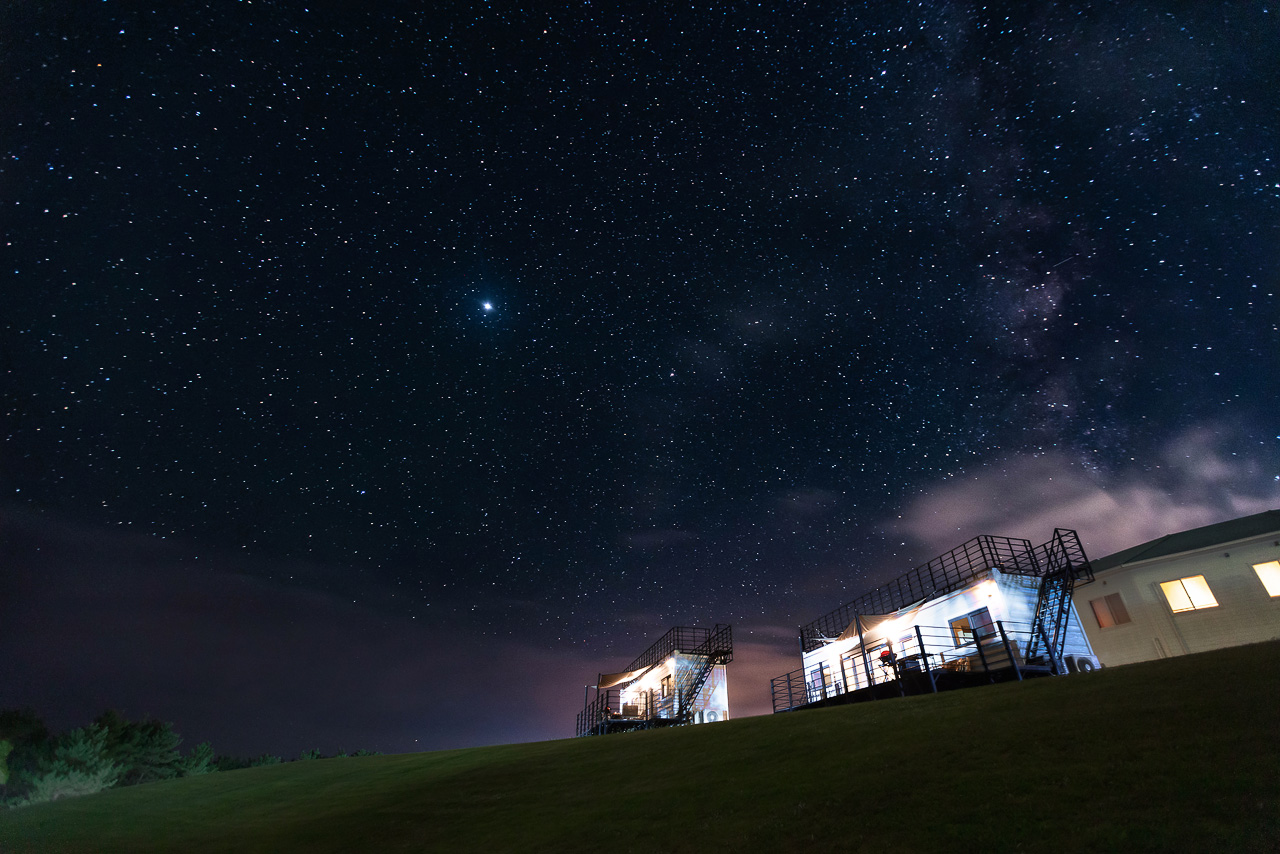 Stay
At Nokka, we recommend you spend time offline. The first thing you will notice when arriving here is the sounds of waves and the smell of the sea breeze. The more you disconnect from the digital world, the more you realize your hearing and smell sharpen. A barbecue dinner served with fresh and local ingredients. A sky with countless stars seen from a rooftop, which you have never seen in the city. You now feel your senses of taste and sight are connecting to the earth. The next morning when you take the first step onto the beach, all the unread messages and emails feel far left behind you.

"Embraced by the sea, connected to the earth."
Kuroshio is waiting for you with arms wide open to make your stay exceptional: whale watching in the Pacific Ocean; sun-dried salt making from seawater and with the power of the sun; locally-sourced food; the clearest and the most beautiful star-filled sky; and natural and organic products or arts made by artisans living here.
All the experiences here will be something you have forgotten in your everyday life and surely loosen you up. Kuroshio and Nokka welcome your stay, so please, open your mind and senses, and have a great time with us.